Episodes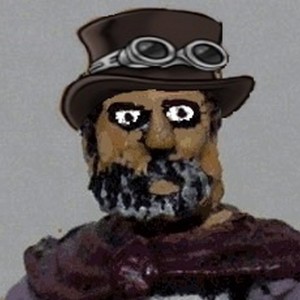 Thursday Jun 24, 2021
Thursday Jun 24, 2021
This week the painting hiatus starts to break for some of us as work and weather and actual opponents battle for supremacy on desktops and dice bags right across the country.
That means a bit of black dot madness creeps in, football strips as heraldry get debated, there is a lengthy diversion into how many bananas can you fit in a 2-foot square terrain tile, Dixons 15mm Marlburians get a quick review, Mirliton's 15mm Communist Italians are sprayed and glued together, and the logic of reviving Hard-Fi's career through small scale modelling is briefly considered and discarded in a short section in which we all pay libations to Vallejo, the Greek God Of Paint Colours.
More importantly at around the 44 minute mark we dive headlong into the world of sports broadcasting with World of War-war-war-Sports, a pundits-eye-view of the runners and riders from the UK's first real post-lockdown ADLG v4 competition in York this coming weekend. We go through the field, and pick the group stage winners and them simulate our way to the very final itself all without the aid of VAR, but with the aid of special guest Micah Richards calling in from table-side.  
The episode rounds off with Andy's Quiz, this week on the topical topic of York. 
(Next week might well be our last Lockdown 21 podcast before we all take a well deserved summer hiatus, but watch out for some live, in-the-field specials coming out over the summer months.)
Our Pool-based draw for the York competition:
Group 1
1. Dave Handley   Early Arab 
2. Dave Ruddock    Armenian 
3. Dave Allan      Parthian
4. Bob Amey      Palmyan
5. Nik Sharp    Meroitic Kushite
6. Gordon Jamieson  Caledonian
7. Bob Middlemist  Carthaginian
8. David Roberts   Middle Imperial Roman
9. Graeme Carroll Sassanid Persian
Group 2
1. Robert Taylor  Palmyran
2. Julian Lopez  Blemmyes/Nobatoes
3. Bill Robertson  Slave Revolt
4. Richard Case   Bosporan
5. Tim Porter      Thracian
6. Andrew Ellis   Early Imperial Roman
7. Alan Cutner  Aramean
8. Dave Saunders Late Imperial Roman
9. Robin Jackson  Ancient Spanish
Group 3
1. Adrian Steer Republican Roman
2. Marco Baroni    Ancient British
3. David Finnigan Triumvirate Roman
4. John Hogan     Carthaginian
5. Ferdie       Mithraditic
6. Chris Tofalos  Ptolemaic
7. Chris Proudfoot Aramean
8. Jesse Schoor   Mithraditic
9. Tony Robinson  Judean Jewish
Group 4
1. Hunter Hope   Meroitic Kushite
2. A Late Entry with Romans 
3. Kevin Johnson   Selucid
4. Stephen Nice   Early Imperial Roman
5. Hugh Cameron  Parthian
6. Charles Gronau  Middle Imperial Roman
7. Paul Dawson  Late Imperial Roman
8. Mike Bennett   Sassanid Persian