Episodes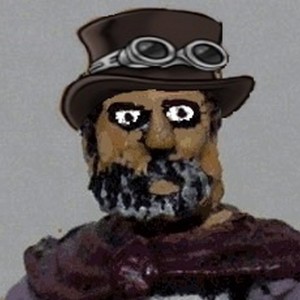 Thursday Mar 18, 2021
Thursday Mar 18, 2021
In this weeks cavalcade of conversation the team assemble and then kick off with an immediate foray into the best tools to use to bend the legs on cavalry riders together.  A surprisingly lengthy chat about whether Ivory is a better colour for painting things white than actual white then diverts into the age-old question about deck white being better or worse than deck tan, rounding off with whether black-grey is a better black than, erm, black?
Atlatl pronunciation debates occupy us all briefly, as does the entire engineering and strategic developmental back story of the Japanese Navy in a single book. That then inexorably takes us through to finding out why the book "D-Day through German Eyes" is actually a complete scam from start to finish before we look at Museum Z-scuplt cavalry, and whether their Noddy hats all need to be painted red.
A 10mm Barons War-full of figures offered via kickstarter gets its' first-view, Wallenstein is broght back from the grave to cast his unevenly beady eyed at us all, there is a timely Podcast Team Vaccine Update, and in the smaller scales the best Vallejo options for ACW limbers are compared to the original soot and ochre.
Adam then yet again helms an occasionally almost-proper-discussion (but still mostly "offensive rant") ISITYAA this week, looking at the tricky topic of competition wargames, and more specifically explaining his theory that curing a few bad eggs (OK, getting a few bad eggs to follow his forthright and robust advice) would rehabilitate the image of the genre, or whether this idea, much like the idea of a cured egg, is just inherently whiffy.
There is a little more O-Group chat, some more ADLG:R feedback, an another obliquely onanistic theme tugs at the heartstrings in the return of Andy's Quiz.