Episodes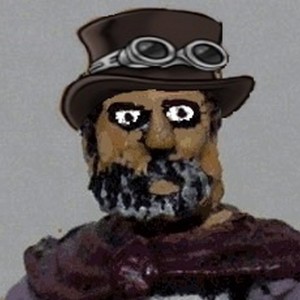 Friday Feb 12, 2021
Friday Feb 12, 2021
Not one, but two whole brand new features slide onto the wet pallette of natter this week as the team extend their normal discursive discussion of painting and online shopping in a pair of new directions.
Padding out the timeline more than most features is a sometimes insightful but often meandering chat in which we all discuss how the concept of morale has evolved during our wargaming lifetimes from it's literal beginnings to its mostly abstracted present expression.
A whole new theme tune also hits the airwaves and heralds the debut of "I'm Sorry I Think You're an Arse!"
Dubbed "the antidote to informed discussion", this new regular feature will see one of the regular team putting forward a proposal to fix something which has been bugging them in the wargaming ecosystem for ages, after which the other panellists sometimes-brutally pick the theory apart, and decide whether there is indeed a a case that the correct response to the proposal is a polite but firm "I'm Sorry, I Think You're an Arse!" 
Of course there is painting chat-plenty too, with the Osmonds nearly getting a rare namecheck as we talk about Tiny Horses, the Ottomaniazation of artillery carries on apace, Winged Hussars appear in such countless multitudes that a murmuration of Hussars becomes a distinct possibility, a quick spot of "Is that a catcus on your head or are you just the punchline to a joke we haven't worked out yet?" happens, an excitingly erudite internet-fuelled dive into analyzing the difference between frilly epaulettes, piratey parrots and just a bit of flash fills some time, and we chill to the thought of dope smoking musketeers in the Battle of the Boyne, go green at the thought of a load more 10mm WW2 goodness and, of course, there is Andy's Quiz.
This week also features a pretty solid post-credits blooper roll or two, so whether you listen to the end or just skim through it, we will still end on a high note!
"Nice beret sir!"