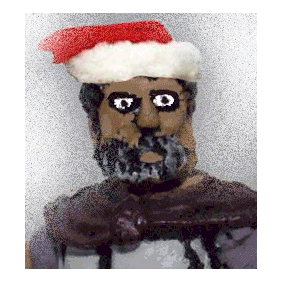 Having snuck in a bonus army-themed podcast last week our half-hearted festivities are now brought to you as Episode 55. in possibly the least festive "Wargaming Christmas Special" ever committed to a digital recording medium.
This week the intrepid band of coughing witterers open a suitably disappointing set of conversational presents from under the podcast tree. The surprise packages include The (literal) Army of Cheese, whether running machines with ashtrays were ever a thing (outside of that one episode of Minder), if faking malingering illness could become the next competition circuit, just how dangerous is electrostatic wet grass, does it really count if you buy a whole army by accident, the fall of the Damned Dynasty, how much gravy should you have when taking Sunday lunch with the Pub Landlord, who wants a tank gift, and (in what could end up being a new gameshow segment) Who's Gaff Is It Anyway?
On the Festive theme, we also recommend for you over the next few weeks:
Other Podcasts to listen to
Computer Games to maybe buy at Christmas 
Which websites are managing to survive in the age of Facebook & Twitter 
This week Andy's Quiz is also all about Going Down - a rare double-entendre in the only gaming-themed podcast that still manages to ease gently into all of those crevices.
We'll be taking a break now until the new year (unless we all get really bored once London gets put in Tier 3), but watch out for a random smattering of army-themed secials on Podbean and YouTube which may yet emerge from between the sprout-stained pages of the Radio Times over the next couple of weeks.